Bank Robbery
March 06, 2015
At about 1:45 pm, a white male suspect robbed U.S. Bank at 1950 Zumbehl Road in St Charles, MO. The robber used a demand note. He did not indicate or show a weapon. The robber fled after taking an undisclosed amount of money.
Height: 5`10", Build: Thin, Age 38-45 years old
The robber wore a reddish beard, gray pullover hoodie with a green logo on the upper left chest, possibly Nike. He also wore black jeans and black shoes.
If you can identify the suspect, please contact the St Charles City PD or your local FBI Office.
Case Number: 15-001849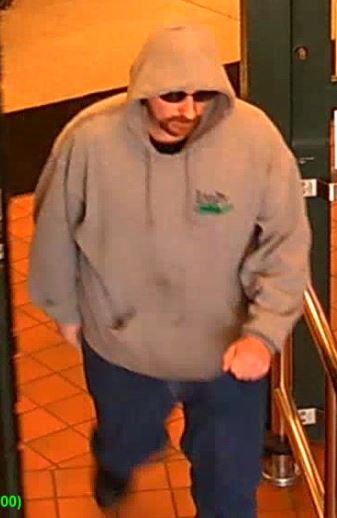 ---
I-70 Killer
May 03, 1992
St. Charles Police are releasing new information in 20-year-old cold-case homicide.
May 3, 2012 is the 20th anniversary of the murder of Nancy Kitzmiller at the Boot Village store in St. Charles. That murder was one of a series of crimes committed in April and May 1992 by a man who came to be known as the I-70 Killer.
Nancy Kitzmiller was born in Oklahoma City and lived there until about age 10. She was a soccer player and a horsewoman. Her friends were cowboys and cowgirls. She frequented rodeos and horse shows. She didn't use drugs, she had never been in any trouble, she rarely drank – although she socialized at several cowboy bars. At the time she was killed, Nancy expected to begin work shortly at the Defense Mapping Agency in St. Louis – now known as the National Geospatial Intelligence Agency.
A total of six murders, including Nancy Kitzmiller`s, were linked by the murder weapon and ammunition. The crimes occurred between April 8, 1992, and May 7, 1992. The suspect was described as a white male, aged mid-20s to mid-30s – probably closer to mid-30s – in 1992. Today, he is probably in his mid-50s. Physically, he was described in 1992 as about 5'7" tall, weighing about 140 to 160 pounds, slender to medium build, with light brown to auburn (red) hair, cut short, and beard stubble on his face.
The following information about the murder weapon and ammunition has not been publicly released previously.
Based on ballistic evidence and witness statements, it is possible that the murder weapon was an Intratec Scorpion or an Erma Werke Model ET 22, although other makes and models of .22 caliber weapons can't be ruled out without a laboratory examination and any .22 auto associated with a suspect will be examined.
The ammunition used was CCI brand .22 caliber long rifle, copper-clad lead bullets. Found on the cartridge cases were two substances: corundum and a red material consistent with rouge. Both of these substances (corundum, which is used as an industrial abrasive; and rouge, which is used as an industrial polish) are used in grinding, buffing, and polishing a wide variety of materials, including firearms. It is possible that the killer lived or worked in an environment where grinding, buffing or polishing was performed, possibly with a buffing or grinding wheel.
Exemplar Photos of the possible weapon, ammunition, corundum and rouge
Related Material:
Detailed Timeline:
April 8, 1992 Indianapolis – Victim Robin Fuldauer, age 26 was working at a Payless shoe store at 7235 Pendleton Pike. Robin's body was discovered in the store at about 1:30 to 2:00 p.m. A small amount of money was missing from the store.
April 11, 1992 Wichita, Kansas – Victims Patricia Magers, age 32, and Patricia Smith, 23, were working at the La Bridal shop, 4613 E. Kellogg. Their bodies were found in the store at about 6:30 p.m. Money was missing from the shop, along with some personal property belonging to one of the victims.
April 27, 1992 Terre Haute, Indiana – Michael McCown, 40, was killed in his shop, Sylvia's Ceramics, 2615 S. 3rd Street. His body was discovered by a customer at about 4:15 p.m. Michael was the only male victim in this series. Because of all the circumstances – including the fact that he wore his hair very long – we assess that the killer, watching from outside, mistook Michael for a woman until he entered the store.
May 3, 1992 St. Charles, Missouri – Nancy Kitzmiller, age 24, a graduate of Ft. Zumwalt High School and Oklahoma State University was found by customers in the back room of Boot Village, 2079 Zumbehl Road – in Bogey Hills Plaza, at Zumbehl and I-70 – at about 2:30 p.m. Cash was missing from the store.
May 7, 1992 Raytown, Missouri – Sarah Blessing, age 37, was killed at the Store of Many Colors, 11573 E. 63rd Street, at about 6:30 p.m. A small amount of money was missing from the register.
These six murders were committed with the same .22 caliber pistol. Ammunition recovered at the crime scenes was matched by the FBI laboratory.
Exemplar Photos:
An artist's sketch and a composite sketch are also attached to this release as a separate PDF.
Current Case Number: 14-8624
Cold Case: I-70 Serial Killer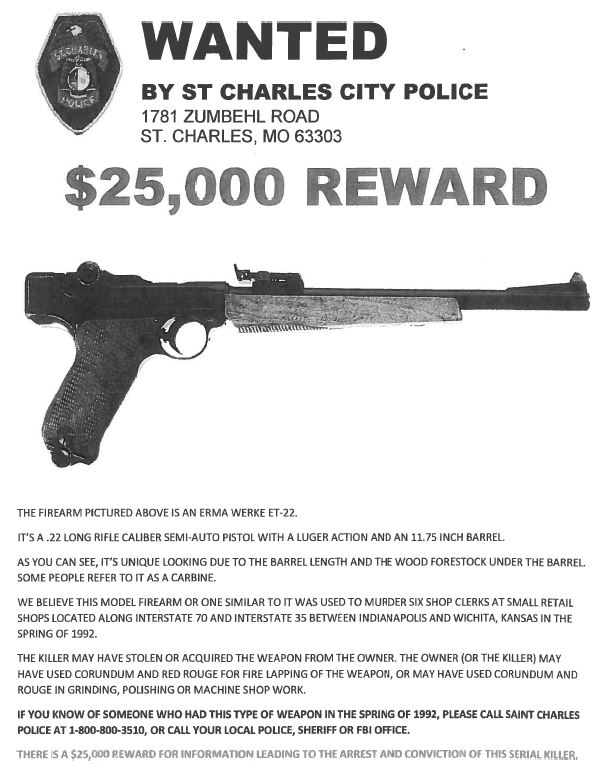 ---
Missing Person
June 08, 1988
Scott Allen Kleeschulte
Missing Since: June 8, 1988
DOB: April 12, 1979
Scott was last seen around 4:30 p.m. before a thunderstorm walking down Ken Drive toward West Adams Street.
Original Case Number: 88-10044
Current Case Number: 13-9794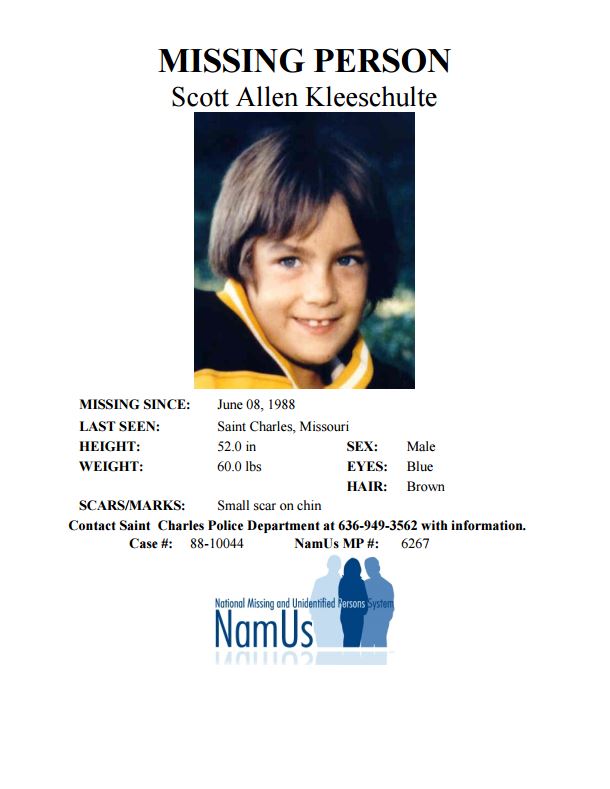 ---